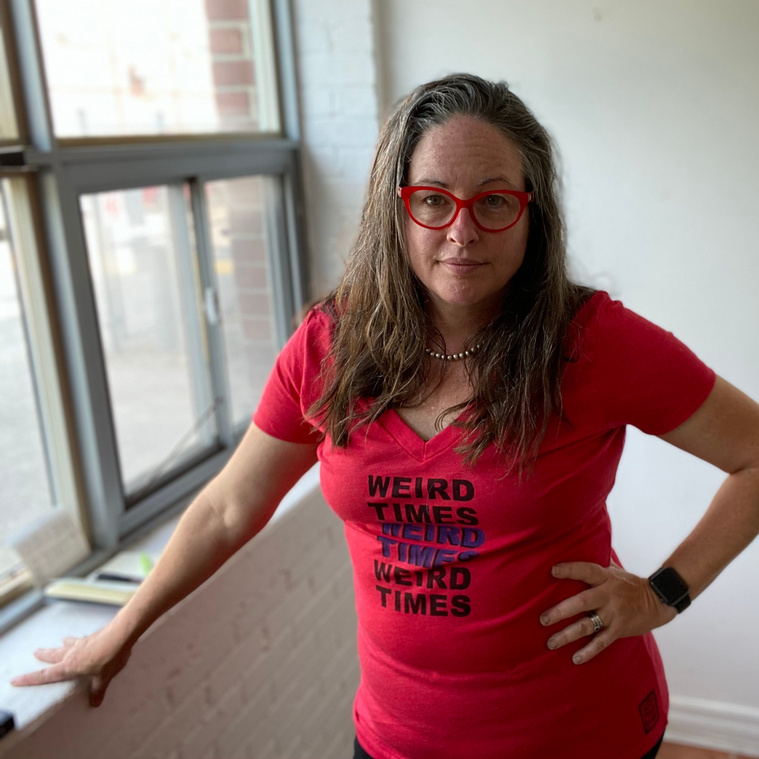 The Right Size
Every time I turn around I discover a new style, size or cut of t-shirt! I'm super picky about how a shirt fits, and hopefully that pickiness can help you find you new fave tee.
During the Weird Times, I have figured out how to help you find the right fit, based on the cut and your chest measurement. I've come up with a few descriptions of fit and a chart to help you find your perfect fit.

When in doubt, don't hesitate to send me an email liz@lizpead.com and I'll do my best to get you sorted.

For reference I am about 5'8" tall and a 39" chest, and I'm wearing and RFT XXL which is a 39" - 40" Chest.

Standard Fit
The Standard Fit, Gildan or other brands, heavier cotton. These shirts tend to have wider arms, no side seams for a straighter line.
Retail Fit
A bit narrower in the body, with a more fitted sleeve. Many of these shirts have medium to lighter weight cottons and sport blends. The neckline is a bit lower for a crew neck, and the ribbing on the neckline is thinner.
RFT* (really fitted tee)
RFT* is a really fitted tee has a good stretch, decent cut at the waist and tend to be lighterwieght cottons and sport blends. If you are a human with boobs; these are comfy shirts that are fitted to keep that stuff all together. They are cut ridiculously small, so I go up a size or two to accommodate. Or was that just all the Storm Chips I've been eating? ;)
T shirt fitting tips
- when in doubt of you know the brand of an existing shirt which is your fave, I might be able to find the right one! I didn't know until this past year there was such a variety of shirt sizes and fits, but I am so glad there is, because diversity is the BEST.
- measure your fave t-shirt - lay it flat and measure it armpit seam to armpit seam. Double that number is your chest size.
- don't be shy to email me liz@lizpead.com with questions. Trying to fit something we would just try on in a store in the before times is difficult! But I've gotten pretty good at it virtually over the last year.